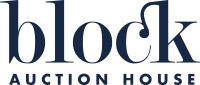 Weekly Auctions of Exceptional Items
Upcoming Auctions
Reviews
Past Auctions
Record Results
Upcoming Auctions from Block Auction House
Block Auction House has no upcoming auctions.

Follow this

auctioneer to hear about new auctions.
Bidder Reviews for Block Auction House (34)
8 Latest ReviewsSee All
Jennifer
Anaheim, California
Easy to work with
Very professional company. Answers phone calls with competent staff. Will buy from again and again.
Tony
Signal Hill, California
Good Job
It all arrived safe and sound-Thank you!
Robert
Berkeley, California
I received what I anticipated
The description of the item was well defined. The pickup from the auctioneer was seamless. The lamp was well packed. I am very pleased with my purchase.
Gia
Staten Island, New York
What a joke
Sell did not work out so I asked for my money back and they would not return my money I had to go through PayPal to get my money back. This is a very shady place.